Amino Complex | 120 Amino Acid Capsules | BCAA's
Next

Ultimate Greens Capsules
Previous
Ultimate Fish Oil Liquid Plus
One of a kind formula of high strength Omega 3 fish oil with added vitamins for maximum benefit. Combining EPA (690mg) & DHA (670mg) with COQ10, Vitamins A, D3, E, and K2. Unlike some fish oils, our unique manufacturing process avoids the use of harsh chemicals and ensures that there are no heavy metal impurities.
Gluten Free
Dairy Free
GMO Free
Free Shipping On Orders Over £50
A New Level of Fish Oil Liquid Quality
Ultimate Fish Oil is probably the UK's most advanced fish oil available. Not only is it rich in EPA and DHA, this formula also has an added high dose of fat-soluble vitamins. Omega-3 is an essential fatty acid that your body cannot make itself. Therefore, you have to get it from your diet. Given that it is found naturally in oily fish oil - something that many of us struggle to consume on a weekly basis - it can be difficult to get enough of it from what you eat alone.
When you consider the range of benefits that are derived from omega 3 fatty acids - from supporting our vision (3) to helping to maintain our blood triglycerides (4) and supporting normal heart (2) and brain health (1) - it is easy to see why omega 3s are one of the most consumed popular supplements worldwide.
Ultimate Fish Oil Liquid is more than just omega 3 fatty acids. With a combination of 1360mg of EPA and DHA, Ultimate Fish Oil also contains Vitamin A, D3, E, K2 and CoQ10.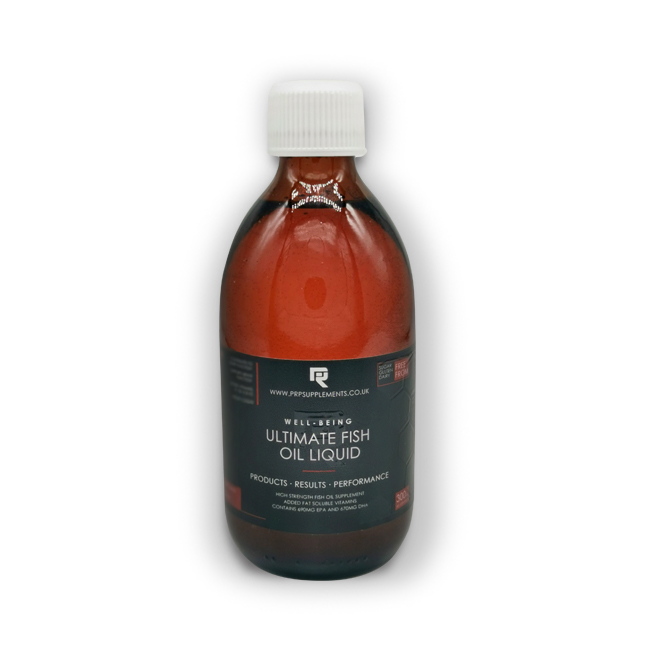 THE MOST COMPREHENSIVE FISH OIL LIQUID
Packed With Fat Soluble Vitamins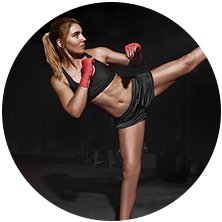 Vitamin A & D3
Vitamin A and D work in partnership - Vitamin A is necessary for both vitamin D binding and release at receptor sites. Vitamin A is important for eye (5) and skin health (6) while Vitamin D has been found to have numerous benefits. It is well known for its role in bone health (7) but it also supports your immune system (8) and muscle function (9). Perfect whether you're training hard in the gym, or just looking to maintain your general wellbeing.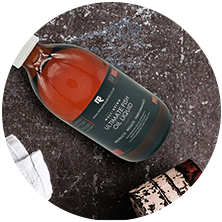 Vitamin E
A natural antioxidant. Unlike vitamin C, though, vitamin E is fat-soluble which helps protect cell membranes (which are fatty in composition) from oxidative damage caused by free radicals (10). By helping to keep the membranes healthy, it helps keep the entire cell health as well. This means having it in the Ultimate Fish Oil formulation can prevent the fish oil from going rancid during shelf life unlike many other Fish Oil supplements.
Vitamin K2
Vitamin K2 contributes to the maintenance of normal bones (11), working synergistically with vitamin D to ensure that calcium is not only absorbed but sent to our bones where we need it the most. There are two forms of vitamin K, K1 and K2, and it is K2 that has demonstrated more beneficial effects on our bones, compared to K1.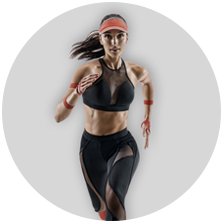 CoQ10
Co Enzyme Q10, also known as CoQ10, is found naturally within almost every cell in the human body. The highest levels of CoQ10 are found in tissues with high energy requirements, such as the heart and skeletal muscles production making this an important nutrient for those training hard. Its production also slows down as we age.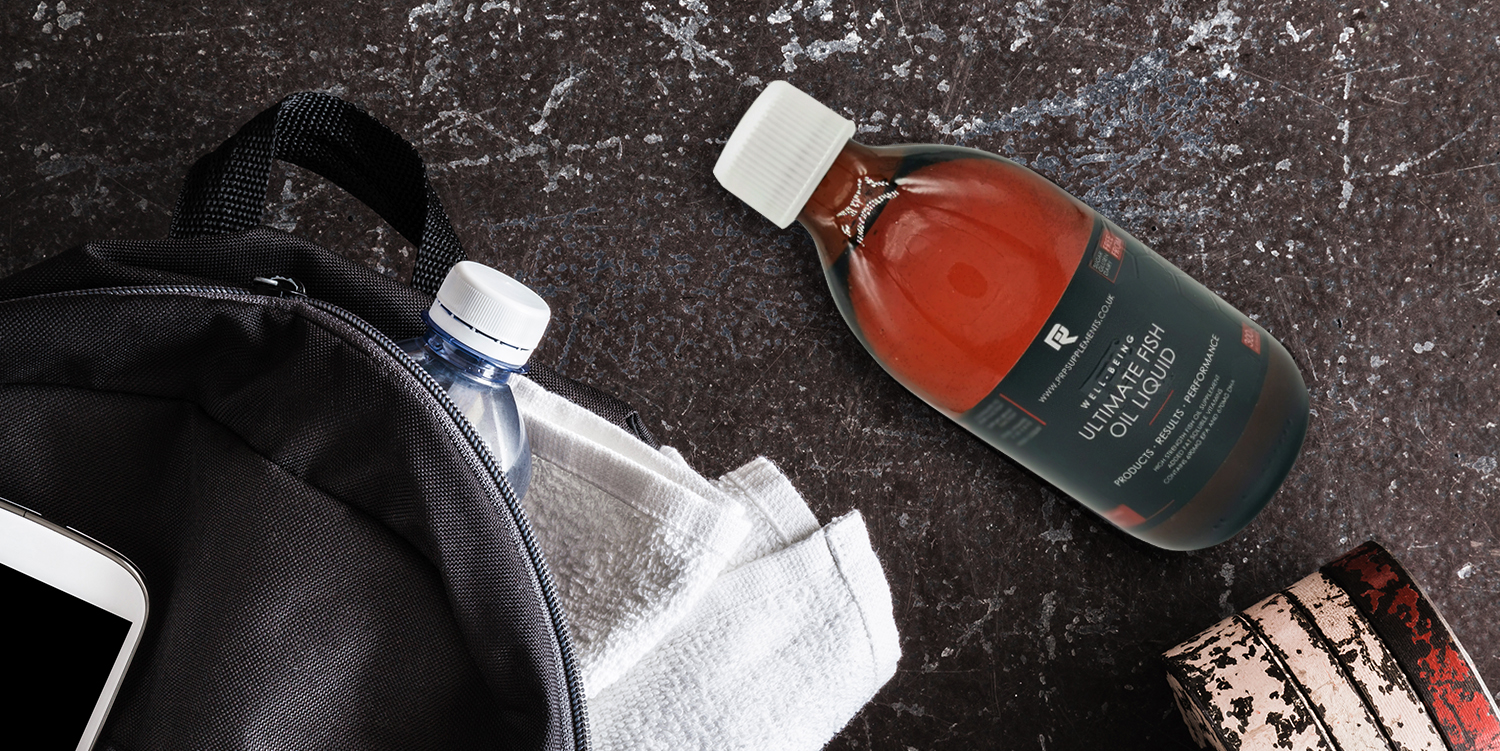 EPA and DHA Like You've Never Seen It
EPA (Eicosapentaenoic acid) & DHA (docosahexaenoic acid) are long-chain essential fatty acids that can be derived in fatty, cold-water fish such as mackerel, anchovies and sardines. They are the dynamic duo of bio-available omega 3s and these polyunsaturated fats play a very important role in the function of our bodies, which when EPA and DHA are consumed together they have increased benefits.
DHA is one of the most prevalent fatty acids in the brain, it's a building block of tissue in the brain. This is also found in the retina of the eye and taking DHA can contribute to the normal function of the eye (4).
Other benefits of fish oil containing both EPA and DHA are that they may help to maintain healthy triglyceride levels (4), and provide support to your body for a healthy heart (2) and can help towards normal blood pressure.
European Food Standards Agency approved claims:
(1) DHA contributes to the maintenance of normal brain function
(2) EPA and DHA contribute to the normal function of the heart
(3) DHA contributes to the maintenance of normal blood triglyceride levels
(4) DHA contributes to the maintenance of normal vision
(5) Vitamin A contributes to the maintenance of normal vision
(6) Vitamin A contributes to the maintenance of normal skin
(7) Vitamin D contributes to the maintenance of normal bones
(8) Vitamin D contributes to the normal function of the immune system
(9) Vitamin D contributes to the normal function of the skeletal muscle
(10) Vitamin E contributes to the protection of cells from oxidative stress
(11) Vitamin K2 contributes to the maintenance of normal bones
Active Ingredients Per Serving
Amount
NRV%

Fish Oil (Sardine & Anchovy)

Fish Oil (Tuna)

3575mg

630.9mg

†

Providing:
†
Eicosapentaenoic acid (EPA)
690mg
†
Docosahexaenoic acid (DHA)
670mg
†
Vitamin E
TE 200mg
1666
Natural mixed tocopherols
18mg
†
CoQ10
50mg
†
Vitamin D3
1000iu (25 Micrograms)
500
Vitamin A
1000iu
75
Vitamin K2
75µg
100
 *NRV - Nutrient Reference Value   † NRV Not established
Ingredients
Fish oil from Sardine, Anchovy and Tuna (containing EPA & DHA) (Fish), D-Alpha Tocopherol Acetate (Vitamin E) (Soy), Lemon oil, Orange oil, Coenzyme Q10, Natural Mixed Tocopherols (Fish), Cholecalciferol (Vitamin D3), Retinyl Acetate (Vitamin A), Menaquinone (Vitamin K2), DL-Alpha tocopherol (Soy), Medium chain triglycerides, Sunflower oil.
Allergen Information: For allergens, including cereals containing gluten, see ingredients in bold. 
Take 1 teaspoon after each meal, 3 times per day or as recommended by a health care professional
This food supplement needs to be stored in a cool, dry place away from direct sunlight. 
Supplements should not be used as a substitute for a balanced and healthy diet.
Do not exceed recommended dose. Keep out of reach of children.
Follow Us On Instagram
#TeamPRP
To Top