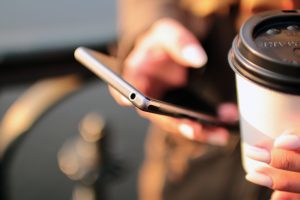 A recent article in the Strength and Conditioning Journal (1) discussed the use of a simple method to help personal training clients hit their exercise goals – a text message. Could this easy method help people keep up with their gym plan though?
The author of the article (Justin Kompf) first highlights that people's ability to adopt and maintain an exercise program is based on two primary things;
Do they feel confident enough in their ability to be able to do the exercise?

Can they plan, manage, and monitor their exercise?
A Message A Day?
Signing up to a personal trainer is one thing but for most people, it is impossible to pay for a PT for more than once or twice a week. How then, can PTs help clients exercise more often? Enter the text message. SMS messaging and Whatsapp have made contacting clients quick and easy. A 2013 systematic-review of 10 studies concluded that text messages showed early promise for promoting physical activity. But, isn't this something most PTs will be doing already? Maybe. If you are, do more than just do it as a token gesture. Make sure to consider the following 3 factors;
Content 
Do you know what sort of messages your clients want? Ask them. Then tailor your content. If the client lacks the confidence to carry out the exercise, motivational messages are the way to go. However, if they lack the organisation skills, these same motivational messages will be ineffective. In this instance, messages that serve as reminders, or provide a "plan B" in case something comes up in your client's day, will be the better option.
Automaticity 
Clients are likely to start ignore texts that feel automated. A 2015 study (2) showed that, if people found out that the messages they received were automated, they stopped reading them.
Frequency 
Try and find the sweet spot in how often you are reaching out to them. This is completely personal and changes from person to person. For example, while 50% of participants in one study (2) felt that 3 messages a day were too many, the other half did not feel as negatively about receiving messages this often. In another study of older adults (3), 13 of the 18 participants thought that 5 messages per week are too many and the remaining 5 thought this was fine.
– High quality approved CBD oil.
– THC Free
– Ideal for those who dislike swallowing caspsules.
Other options
If personal training clients want to exercise outside of their paid sessions, it is the trainers job to guide them, help prescribe sessions that are tailored to their needs, and then give them the confidence and organisation to see these plans through. Some of the factors laid out above should then be considered before hitting the send button on a text message. Equally, the success of these messages should be reviewed. Do they evoke the behaviour change they are setting out to help.
For more information about habits and behaviour change, make sure to check out our podcast episode with Karl Morris.
– How And Why We Form Habits.
– Why It Is So Difficult To Break Old Habits.
– The Most Important Period When Your Trying New Behaviours
References 
1 – Kompf, J. (2019). The Use of Text Messages for Exercise Behavior Change Techniques. Strength & Conditioning Journal, 41(6), 87-90.
2 – Wang JB, Cadmus-Bertram LA, Madanat H, and Ayala GX. Wearable sensor/device (fitbit one) and SMS-text messaging prompts to increase physical activity in overweight and obese adults: A randomized controlled trial. Telemed J E Health 21: 782–792, 2015.
3 – Mu¨ller MA, Khoo S, and Morris T. Text messaging for exercise promotion in older adults from an upper-middle-income country: Randomized Controlled Trial. J Med Internet Res 18: e5, 2016.
---
If you are taking any prescribed medication or have any medical conditions ALWAYS consult your doctor or pharmacist BEFORE taking vitamins or supplements. Food supplements must not be used as a substitute for a varied and balanced diet and a healthy lifestyle. If pregnant or lactating, ALWAYS consult your doctor before use. Or if you have any queries about any supplement ALWAYS consult a QUALIFIED medical professional.
Please click here to read our legal disclaimer on all products and advice.