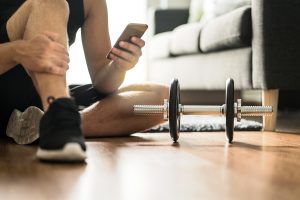 These truly are unprecedented times. Covid-19 has brought about some of the most radical changes in most of our lifetimes. As part of this, gyms have been asked to close their doors in order to help facilitate the social distancing that is so important to help slow the spread of the viral disease. This means that many people will now have to get their daily exercise fix from the comfort of their own home. We wrote recently about whether exercising at this time will affect your immune system - in short, exercising is still a good idea. So, with more of us having to train at home, we've put together some tips to make sure you get the most out of the training.
Have A Plan
Just because you can't get to the gym at the usual time, doesn't mean you should start getting haphazard with your training now. 
Create a schedule - know what times you're going to train, and stick to it. 

Create a training plan - even if you think you can only do bodyweight exercises, it is still important to try and create a structure plan. Reps and sets still exist outside of the gym. Don't just create a plan, record your progress
Find a Training Partner
Just because you can't get to the gym together, doesn't mean you can't get the benefits of a training partner still. Use skype, facetime, or whatever online platform you can and train 'together'. That way, you'll still keep each other accountable. You'll still be able to motivate each other. And for many of us, this will be a chance to interact with each other amidst all of the self isolation and social distancing.
- Supports Immune Function
- Supports Energy Levels
- Helps to Maintain Optimal Health
- Supports Blood Vessels
- Added Green Tea Extract
Put Your Kit On
With no one watching, there could be a temptation to just get your training done in whatever casual clothes you've been wearing all day. However, by going and putting on your normal gym clothes, you'll start to out yourself into your typical training mentality. Helping to distinguish this part of the day as separate to other things you've been doing.
Add Variety
With the internet comes an almost unlimited amount of exercises and home workouts you can try. A quick search for 'bodyweight exercise', 'press up variations', or 'ab workouts' shows you have much choice there can be. Could this even be the time to try something a bit different or work on a different aspect of fitness? Home yoga with the kids? Indoor cycling? If you stick to the same exercises, you'll very quickly become bored, lose enthusiasm and likely stop exercising.
Be Inventive
Don't have any gym equipment? Now's the time to get creative. A sports bag full of heavy items around the house can be turned into a homemade weight? Your kids? They're just awkward shaped weights. 
Have a Goal
Again, just like your normal training, it is important to try and create a goal or aim to complete a challenge. Most amount of consecutive press ups? Longest isometric hold? If you can create a goal, this can help keep you focused with your training and help shape the plan we mentioned above.
---
If you are taking any prescribed medication or have any medical conditions ALWAYS consult your doctor or pharmacist BEFORE taking vitamins or supplements. Food supplements must not be used as a substitute for a varied and balanced diet and a healthy lifestyle. If pregnant or lactating, ALWAYS consult your doctor before use. Or if you have any queries about any supplement ALWAYS consult a QUALIFIED medical professional.
Please click here to read our legal disclaimer on all products and advice.