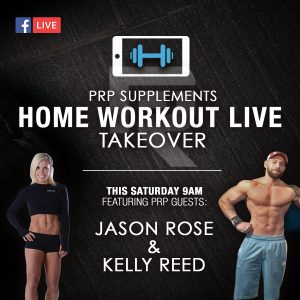 30 min anabolic Tabata home workout with Jason & Kelly
Come & join these two fitness professionals for a Jason vs Kelly Tabata where they will take you through 20 seconds of each exercise – Jason using powerlifting moves replicated with a resistance band & Kelly using bodyweight
Designed for all levels – lots of modifications given all we ask is you bring a smile & your energy.
If you are taking any prescribed medication or have any medical conditions ALWAYS consult your doctor or pharmacist BEFORE taking vitamins or supplements. Food supplements must not be used as a substitute for a varied and balanced diet and a healthy lifestyle. If pregnant or lactating, ALWAYS consult your doctor before use. Or if you have any queries about any supplement ALWAYS consult a QUALIFIED medical professional.
Please click here to read our legal disclaimer on all products and advice.