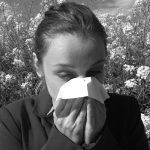 Airborne allergens, such as pollen, dander and dust mites, affect a large number of people and can lead to hay fever symptoms. These symptoms can be uncomfortable and distressing and for those of us looking for natural alternatives to medication, probiotics might form part of the solution.
There is increasing evidence that these friendly bacteria (probiotics) may help in preventing and alleviating allergic conditions. Whilst some foods, such as live yoghurt, kefir and sauerkraut contain high levels of friendly gut bacteria, these foods do not appear in abundance in today's diet and taking probiotics in supplement form may be the best option for achieving the required balance of bacteria in our gut.
– Contains extensively studied Lab4 probiotic consortium
– Successful results in clinical trials on allergies
– A range of different products for different requirements
How Can Probiotics Help Hay Fever?
Friendly bacteria can help to modify the balance of bacteria in the gut and help to boost the immune system. They can also help by increasing the levels of an antibody (secretory IgA), which lines the respiratory and gastro-intestinal tracts and helps to reduce the effect of allergens.
Much of the research relating to probiotics and the prevention and reduction of symptoms of allergy has been done with children. The Lab4 group of probiotics found in the ProVen Probiotics products has been shown to help in the prevention of allergy, when given to babies during the last trimester of pregnancy and the first six months of infancy. In a study involving 454 mother-baby pairs, the babies who received the Lab4 friendly bacteria were 50% less likely to develop allergies by two year of age than the babies who did not receive the probiotics [1].
References
[1] Allen SJ et al 2014. Probiotics in the prevention of eczema: a randomised controlled trial. Archives of Disease in Childhood 99(11): 1014–1019
---
If you are taking any prescribed medication or have any medical conditions ALWAYS consult your doctor or pharmacist BEFORE taking vitamins or supplements. Food supplements must not be used as a substitute for a varied and balanced diet and a healthy lifestyle. If pregnant or lactating, ALWAYS consult your doctor before use. Or if you have any queries about any supplement ALWAYS consult a QUALIFIED medical professional.
Please click here to read our legal disclaimer on all products and advice.