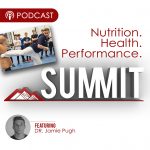 We had Dr Carl Langan-Evans on live for the Nutrition, Health, Performance Podcast. Carl has worked with Olympic athletes, MMA and world title fighters. In this video, Carl Evans discussed his career as an athlete and how that led him down the road of researching weight making practices in combat sports.
To download and listen to the FULL PODCAST follow the links on this page with your prefered podcast app!
In This Episode We Discuss With Dr. Carl Langan-Evans:
– The biggest issues today with how athletes make weight
– How he once saw an athlete cut nearly 8 kg in less than 24hrs
– Practical tips for nutritionists and trainers working with fighters
– The potential long term consequences of a lifetime of weight cutting
– Formulated for Oestrogen detoxification and to maintain a healthy hormonal balance
– Contains Indole-3-carbinol and Calcium D-Glucarate 
– Ideal for Men and Women
If you are taking any prescribed medication or have any medical conditions ALWAYS consult your doctor or pharmacist BEFORE taking vitamins or supplements. Food supplements must not be used as a substitute for a varied and balanced diet and a healthy lifestyle. If pregnant or lactating, ALWAYS consult your doctor before use. Or if you have any queries about any supplement ALWAYS consult a QUALIFIED medical professional.
Please click here to read our legal disclaimer on all products and advice.