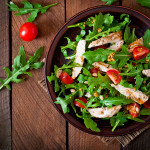 What is a Ketogenic Diet Plan?
The ketogenic diet plan is a high fat - low carbohydrate (usually less than 50g per day or >5% of total energy intake) diet, where the body produces ketones in the liver to be used as energy. By lowering the intake of carbohydrates, the body is induced into a state known as ketosis. Ketosis is a natural process the body initiates to help us survive when food intake is low. During ketosis, we produce ketones, which are produced from the breakdown of fats in the liver. Over the last few years, the ketogenic diet has gaining considerable attention as a potential weight-loss strategy. Most of the interest actually started in the 1970s with the Atkins diet (a very low-carbohydrate, high-protein diet, which was a commercial success and popularised low-carb diets to a new level).
Many versions of ketogenic diets exist, but all ban carbohydrate-rich foods. Some of these foods might be obvious:  whole grains like breads, cereals, pasta, rice, potatoes and other starchy vegetables and fruit juices. Some that may not be so obvious are beans, legumes, and most fruits. Most ketogenic plans allow foods high in saturated fat, such as fatty cuts of meat, processed meats, lard, and butter, as well as sources of unsaturated fats, such as nuts, seeds, avocados, plant oils, and oily fish.
How Effective is the Ketogenic Diet Plan?
A ketogenic diet plan has been shown to provide short-term benefits in some people including weight loss and improvements in total cholesterol, blood sugar, and blood pressure. However, the long-term effects when compared with the effects of other weight loss diets are not significantly different. Equally, for some people, eliminating several food groups may make compliance difficult.
A ketogenic diet plan may be an option for some people who have had difficulty losing weight with other methods. If you choose to start a ketogenic diet, it is recommended to consult with your doctor and a qualified dietitian or nutritional practitioner to closely monitor any biochemical changes after starting the regimen.
- 15g  of whey protein and 10 g of whole egg protein with
- 5 g of Medium Chain Fatty Acids
- All in a great tasting double choc fudge brownie flavour
- Great addition to a ketogenic diet plan
7 Day Ketogenic Diet Plan
In this blog we have put together an example of a ketogenic diet plan. This should give you an example of the types of foods and daily intakes that are typically seen with this diet.
---
If you are taking any prescribed medication or have any medical conditions ALWAYS consult your doctor or pharmacist BEFORE taking vitamins or supplements. Food supplements must not be used as a substitute for a varied and balanced diet and a healthy lifestyle. If pregnant or lactating, ALWAYS consult your doctor before use. Or if you have any queries about any supplement ALWAYS consult a QUALIFIED medical professional.
Please click here to read our legal disclaimer on all products and advice.