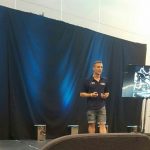 PRP/Aliment have been hosting seminars for years. However, the Nutrition, Health & Performance Summit will be the best and most informative yet.
5 different speakers with a wealth of experience from many different backgrounds, you will learn how Nutrition and Performance are managed at the highest level and how research is translated into meaningful practice.
We have a little bit of what Dr. Jamie Pugh will be covering in the SUMMIT 2019 below…
What Jamie Pugh Will Be Covering
While the research into probiotics has surged in the last couple of decades, one of the areas to have only recently been examined are the effects of probiotics on sports performance. Probiotics have the potential to directly or indirectly influence performance through improvements in immune function, reducing gastrointestinal symptoms, altering the gut-brain axis and, in new research that will be presented, potentially altering our exercise metabolism. With so many probiotic products on the market, Jamie will dissect the differences between products and explain how to make informed choices when it comes to choosing a product. As part of the presentation, some of the latest findings in regards to the bacterial composition (microbiota) of elite athletes that have been shown.
Here's a preview from the last seminar…
– Some of the most renowned practitioners, researchers and speakers in the world of sports performance and nutrition
– Experienced speakers from different backgrounds that have worked with professional teams and athletes
– Learn how to research is translated into practice at the highest level
If you are taking any prescribed medication or have any medical conditions ALWAYS consult your doctor or pharmacist BEFORE taking vitamins or supplements. Food supplements must not be used as a substitute for a varied and balanced diet and a healthy lifestyle. If pregnant or lactating, ALWAYS consult your doctor before use. Or if you have any queries about any supplement ALWAYS consult a QUALIFIED medical professional.
Please click here to read our legal disclaimer on all products and advice.