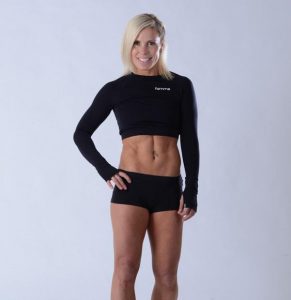 #JoinTheResolution : Kelly Reed - Self Care
To kick off our #JoinTheResolution campaign we have Kelly Reed from Kelly Reed Fitness Health & Wellness to share her goals for 2020!
Kelly wants to not give anything up but start giving herself more time for herself and improving her 'self-care' whilst learning to say no!
Below we have a bit of information about self care and how you can start improving your own self care.
#JoinTheResolution ...
Self Care - It's Okay To Be Selfish
"Self-care is any activity that we do deliberately in order to take care of our mental, emotional, and physical health.
Although it's a simple concept in theory, it's something we very often overlook. Good self-care is key to improved mood and reduced anxiety."
Why Self-Care Matters
It's so important to make sure you take good care of your body, mind, and soul every day, not just when you get sick. Learning how to eat right, reduce stress, exercise regularly, and take a time-out when you need it are key to self-care and can help you to stay physically and mentally healthy, fit, and resilient.
Why Do We Often Fail at Self-Care?
Practicing self-care isn't always easy. Most of us are very busy, have stressful jobs, or are too consumed with technology to make time for ourselves. 'Me-time' is usually last on the agenda. Worse, we can sometimes feel guilty about taking the time required to take care of ourselves. So getting started with self-care can be challenging.
Here are a few ways to get started with your self-care...
Make sleep part of your self-care routine. 
Sleep can have a huge effect on how you feel both emotionally and physically. Not getting enough can even cause major health issues. But stress and other distractions can wreak havoc on our sleep.
Take care from the inside 
Your gut health can have a significant impact on your health, well-being, and feelings of vitality. Make sure your gut is healthy and balanced by looking a probiotic supplementation. Recent research is now suggesting a link between the use of probiotics and depression and anxiety.
Exercise daily as part of your self-care routine. 
We all know exercise is good for us, but do we really know how good it is? Daily exercise can help you both physically and mentally, boosting your mood and reducing stress and anxiety. It makes us feel better about ourselves and helps us to focus on something different.
Eat right!
The food we eat has the potential to either keep us healthy or cause us problems. Eating the right foods can also help at different stages in our lives. Some well known self-care foods include fatty fish, blueberries, nuts, green leafy veggies, and broccoli, for example. Generally unprocessed foods not only taste better but have a positive affect on our weight and well being.
Say no with a smile, and say yes to you!
Learning to say no is very hard and many of us feel obligated to say yes when someone asks for our time or energy. However, if you're already stressed or overworked, saying yes to everyone, even if they are close to you, can lead to burnout, anxiety, and irritability. It may take a little practice, but once you learn how to politely say no, you'll start to feel more empowered, and you'll have more time for your self-care.
A change is as good as a holiday?! 
Making a change in your routine such as a small trip away can make a huge difference in your life. Even if you're not feeling particularly stressed, getting away for a weekend every now and then can help you disconnect, relax, and be rejuvenated. It doesn't need to be an expensive holiday, it could mean going out for the day and visiting somewhere new.
The idea is to take yourself away from your normal schedule and take the time to do something just for yourself.
Take a self-care seriously and break out!
Spending time outside can certainly help you reduce stress, and be more mindful. Studies have even shown that getting outside can help reduce fatigue and improve mood. Getting outside can also help you sleep better at night, especially if you do some physical activity, like walking.
- Save 20% when buying this pack
- EXCLUSIVE downloadable content containing infomation, tips and tricks for mental well-being
- Entry to an exclusive competition
- Supplements included to help contribute to normal psychological function(3), brain function(5) and to contribute to the reduction of tiredness & fatigue(2)
Try out this little exercise to see how much you do really care!
'I Am Worth It' Checklist
Scoring:
| | |
| --- | --- |
| Very like me | 3 |
| Like Me | 2 |
| Unlike Me | 1 |
| Very Unlike Me | 0 |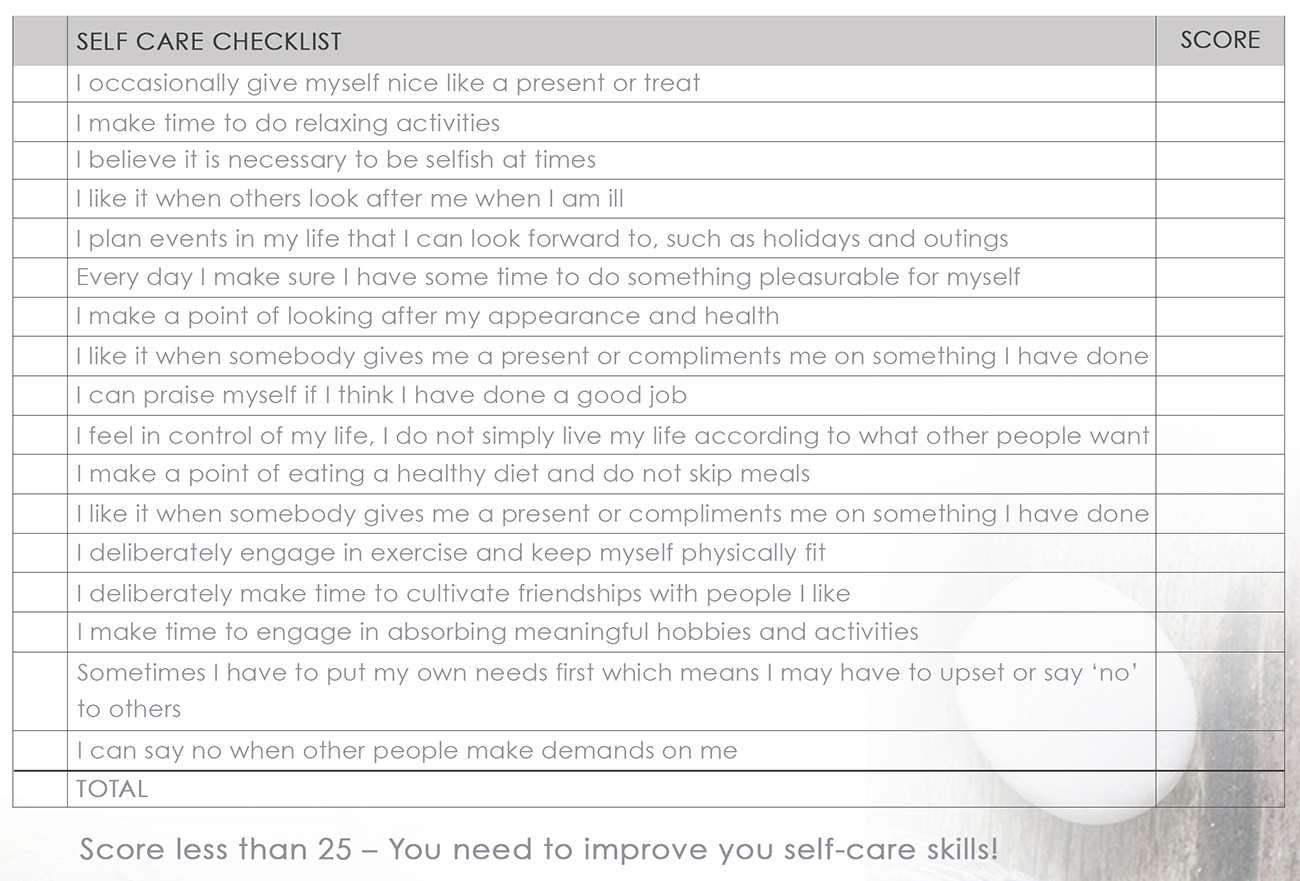 Improving Your Self Care
Where you score yourself '0-Very Unlike Me' or '1-Unlike Me', try to work out what you can do to improve on this within the next 1-2 weeks. Write it down in a diary or journal (or in the notes section of your phone).
Then in a months time, re-do the checklist to see if there is an improvement.

Moving forward…
This is just a guideline, to start you thinking about looking after yourself. You can add to this list as you feel, and even check things off once you have done them, or improved….good luck!
- High quality approved CBD Oil
- THC Free
- Convenient dropper bottle
- Suitable for vegetarians and vegans
If you are taking any prescribed medication or have any medical conditions ALWAYS consult your doctor or pharmacist BEFORE taking vitamins or supplements. Food supplements must not be used as a substitute for a varied and balanced diet and a healthy lifestyle. If pregnant or lactating, ALWAYS consult your doctor before use. Or if you have any queries about any supplement ALWAYS consult a QUALIFIED medical professional.
Please click here to read our legal disclaimer on all products and advice.