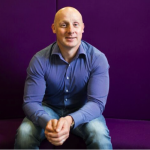 Originally Prof. Graeme Close was a Professional rugby league player, Graeme is now a Professor in Human Physiology at Liverpool John Moores University where he combines his academic research with nutrition and physiology consultancy to some of the worlds leading sporting individuals and organisations.
Graeme Close in Professional Sport
As well as leading a masters degree in sport nutrition Graeme is currently the expert nutrition consultant to England Rugby, he is the lead nutritionist to Everton Football Club and works with some of the worlds leading golfers such as Jason Day, the British Number 1 tennis player Johanna Konta and he also works with many Rugby League players. On top of this, and despite spending most of his professional career helping big people get bigger, he currently receives funding from Sheikh Mansour Bin Zayed Al Nahyan (the owner of Manchester City FC) to help professional jockeys make-weight safely. Graeme is also ranked in the top 10 most followed sport scientists in the world on twitter. He regularly appears on British National TV and radio discussing various aspects of nutrition in relation to health and sporting performance.
World Leading Public Speaker
It is this combination of academic theory (Graeme has published over 100 papers and review articles and spoken at over 50 conferences across the globe) and applied practice that has enabled Graeme to establish himself as a world-leading nutrition consultant and public speaker. Graeme is the only person in the UK who is an accredited sports nutritionist (SENr), sports scientist (BASES) and strength and conditioning coach (UKSCA). He is the deputy chair of the Sport and Exercise Nutrition Register and has recently received a prestigious fellowship from the British Association of Sport & Exercise Sciences (BASES).
– Some of the most renowned practitioners, researchers and speakers in the world of sports performance and nutrition
– Experienced speakers from different backgrounds that have worked with professional teams and athletes
– Learn how to research is translated into practice at the highest level
If you are taking any prescribed medication or have any medical conditions ALWAYS consult your doctor or pharmacist BEFORE taking vitamins or supplements. Food supplements must not be used as a substitute for a varied and balanced diet and a healthy lifestyle. If pregnant or lactating, ALWAYS consult your doctor before use. Or if you have any queries about any supplement ALWAYS consult a QUALIFIED medical professional.
Please click here to read our legal disclaimer on all products and advice.