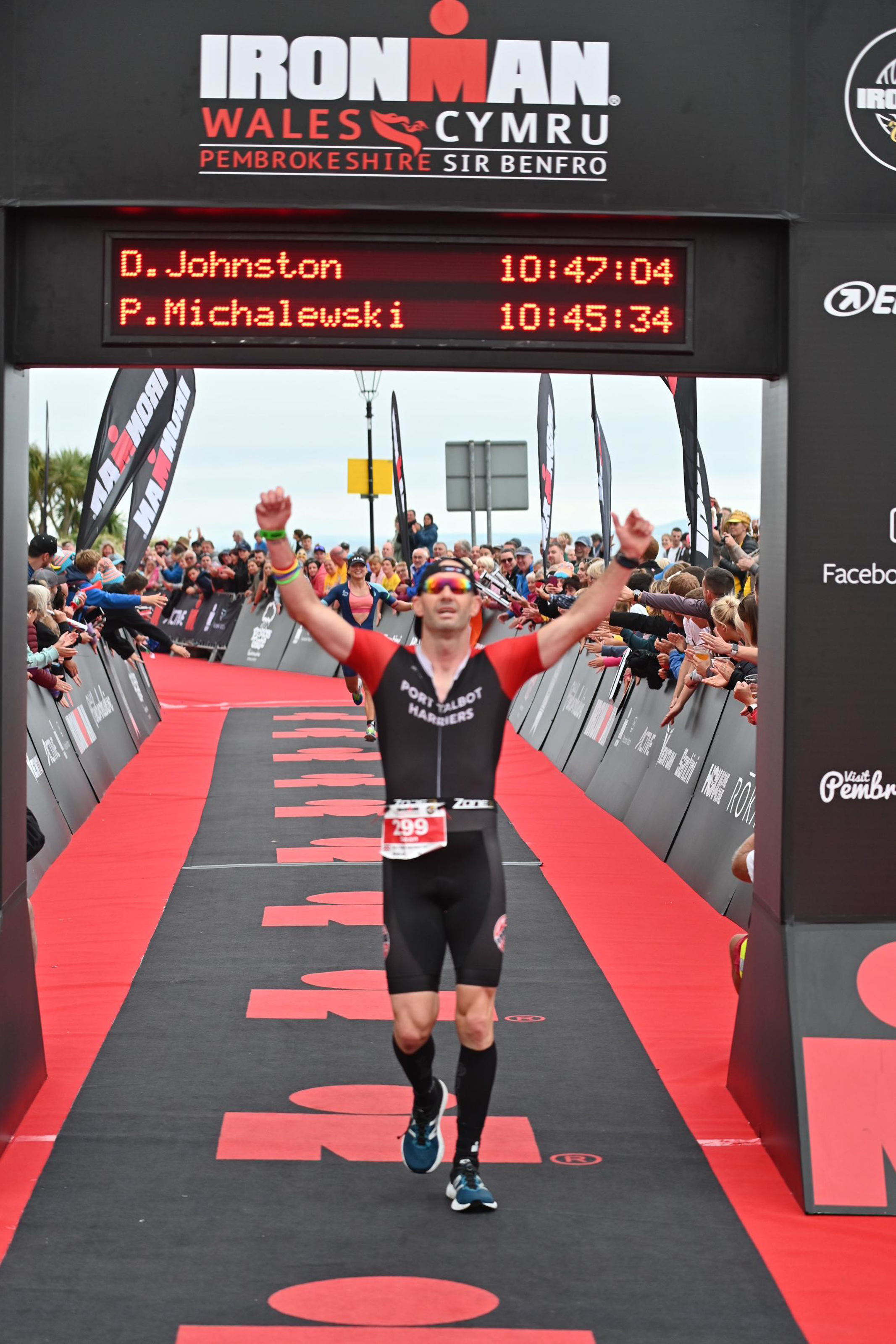 Dean Johnston is a keen athlete (recently completed Iroman Wales) and sportsman who has just completed the 2019 Welsh 'Ironman' challenge. He lives in Cwmafan, Port Talbot with his wife Victoria and two boys Ioan and Theo. Dean has always been a keen sportsman since a young child and was a regularly seen running or playing semi-professionally on the football field.
After being a firefighter for a number of years which was a life long dream, unfortunately, he was involved in a road traffic accident whilst on his bike. The accident, though not his fault, meant his life took a different term and he spent the next 3 years surviving and recovering.
He has overcome this, and just completed his first Iron man (Ironman Wales) in 10 hours 47 and coming 9th in his age category, and 78th overall out of 2039 other competitors.
In the Podcast video above,  Jamie speaks to Dean about his training and the event itself.
Dean Tells His Story…
WOW! What an emotional weekend that was!!!
I managed to finish my first ever Ironman which was Ironman Wales, Tenby – an unforgettable sporting experience that I'm going to find hard to beat. Amazing course, amazing supporters and of course representing an amazing club in Port Talbot Harriers!
Crossing that finish line was a bittersweet moment for me. I was ecstatic to finish but kept thinking about the journey I'd taken to get there. Exactly 3 years ago to the day, I was recovering from an operation to fix a double compound fracture to my right arm, after avoiding a collision with a car. A fracture that ultimately cost me my job! A job that I loved as a firefighter! A job that I'd done for 18 years and had expected to do for another 18. The pain wasn't a problem, I knew it would go away soon. But, suffering with PTSD, depression and the realisation that I'd have to find a new career to help support my family was tough. I blamed myself! I sure visited some dark places!
I am so, so lucky to have such a close loving family. A wife who was so supportive and understanding and put up with so much s*** she deserves a medal!! Without them it would have been even tougher!
When I decided to take on the Ironman I soon realised that this was my medicine! It took me out of those dark places! Gave me a purpose! I was so envious hearing people talking about it. I wanted a piece of the action. If I couldn't be Dean the firefighter, maybe I could be Dean the Ironman.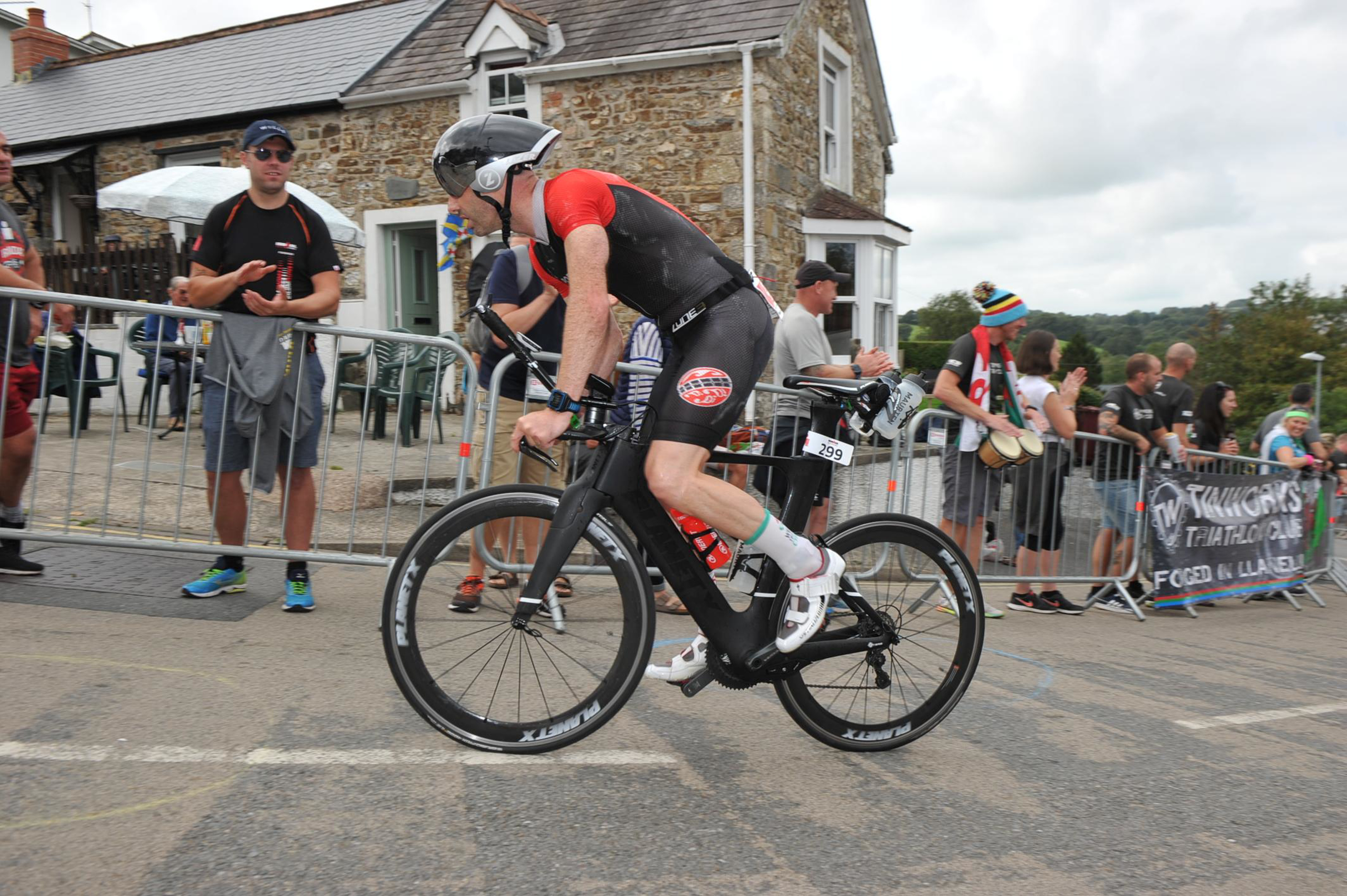 The training was tough! But a breeze compared to what I'd been through personally. I didn't want to just survive and get through the Ironman. I wanted to complete it as fast as I could. I thought I'd set myself a target. After being inspired by Geraint Thomas' (my hero) winning the Tour de France the year before, I thought I'd set a lofty goal of trying to secure an age group Kona spot – the birthplace of Ironman and where the Ironman world championships are held. The holy grail of triathlon. To do this a felt a time of 10 hrs 30 mins was needed.
Before getting into triathlon I'd been a fairly competitive runner. I had a 5k PB of 16.27 which I set as a 15 year old. I soon got distracted by football though and gave up running to play semi-professionally. I always promised myself that I'd go back to running after football and at 35 I returned, almost beating my 5k PB at 39 years of age, running 16.36. As I got older I decided to try longer distances running a half marathon PB of 1.15 and a marathon PB of 2.47.
Gut Issues During Running
Unfortunately, I started to develop stomach issues during these races, which really frustrated me as I was training really well, but when it got to the races the pain would get too much and I would have to stop. That's when I decided to go into triathlon (sprint and Olympic distance). My logic was, the race can still last for 2 hours but the run only lasts 40 minutes. Unfortunately after time the stomach issues returned again. I saw a large number of physios to try and sort the problem but it always returned. I knew this was going to be a problem when taking on this Ironman challenge so I decided that if a physio can't sort it then maybe it's more of a gut health problem rather than a muscular problem.
That's when I spoke to Charlotte at Aliment and PRP Supplements. I'd seen the Intensive Training Probiotic Complex on social media and did a bit of research into the product and was impressed with the studies. After speaking with Charlotte we decided to go with the probiotic but also decided to add the Omega Max Pure as an anti-inflammatory and vitamin D for bone health. It would prove to be a great decision and a pivotal moment in my training and races.
Training For Ironman
I always loved the research of training. There were so many different opinions, different books – Joe Friel's Training Bible, Don Fink and Paul Newsome's Swim Smooth and Jack Daniels' Running Formula. I read them and decided to plan my own programme and coach myself. It was something I enjoyed and immersed myself in.
The training was divided into 3 phases. A BASE (start till 20 weeks from race), BUILD (20 weeks before race) and PEAK (10 weeks before race) phase.
Base Phase
The BASE phase would start with 2 swims a week (2 x30 mins), 3 bikes a week (2×1 hour & 1×2 hour) and 3 runs a week (1×30 mins, 1 x brick & 1x 45 mins long ) all at low intensity at zone 2 HR and slowly adding volume to the sessions, just building up the endurance. It was going to be a long 9 months of graft; I didn't want to blow up months before the race.
Build Phase
In the BUILD phase I added 1 extra session to each discipline which was a threshold session. Swim (1 x easy, 1 x Technique, 1 x threshold) Bike (2 x easy, 1 x threshold, 1 x long building up to 4 hours) Run (1 x easy, 1 x brick, 1 x threshold, 1 x long building up to 1 hr 45 mins).
Peak Phase
In the PEAK phase frequency remained the same but volume increased again for all long sessions. Swim (1 x easy, 1 x Technique, 1 x threshold) Bike (2 x easy, 1 x threshold, 1 x long building up to 6 hours) Run (1 x easy, 1 x brick, 1 x threshold, 1 x long building up to 2 hr 30 mins). Until 3 weeks before the race which would start the taper.
The PEAK phase was interrupted by an injury sustained to my ankle during a race. 3 weeks of running were missed as a result and had a detrimental effect on my running performance during Ironman.
The training was really tough! Feeling tired most of the time, but what surprised me the most was that I never got ill. When I was in demanding blocks of training I would find that I'd breakdown with a sore throat. It never happened this time.
The Result…
Close but no cigar. I was to finish in a time of 10hrs 47 mins. I'm really pleased with the result. It's a time I would have been thrilled with at the start of the day. But…I couldn't help be a little disappointed! I missed the Kona spot by less than 9 mins.
Ironman Wales Race Day
As I was about to 'toe the line' for the start the race, I had a lump in my throat! and the national anthem hadn't started to play yet. It wasn't to do with nerves of what was to come, the hours of suffering with 2000+ other athletes and teammates. It was the realisation that I've had a pretty s***ty 3 years and yet here I am chomping at the bit to face another challenge, looking forward, being positive. I was proud of myself!
The race itself was everything I expected and more. It filled every expectation! I'd prepared well, my body was ready!! The only thing I hadn't truly prepared myself for was the crowd. Ooofff! Everywhere was rammed! The banks overlooking North Beach for the swim, the streets of Tenby town for the run. The highlight? The hill after Heartbreak Hill, leading up to New Hedges. I remember looking up, seeing a sea of bodies in a line, 2 or 3 deep for 400m just leaving enough gap for 1 cyclist to pass. screaming 'Go Dean'. This is the closest I'll ever get to feeling like a pro athlete I thought! I lived the dream for 30 seconds!
– Formulated for performance
– Used in two clinical trials with endurance athletes
– 25 Billion viable cells per capsule
If you are taking any prescribed medication or have any medical conditions ALWAYS consult your doctor or pharmacist BEFORE taking vitamins or supplements. Food supplements must not be used as a substitute for a varied and balanced diet and a healthy lifestyle. If pregnant or lactating, ALWAYS consult your doctor before use. Or if you have any queries about any supplement ALWAYS consult a QUALIFIED medical professional.
Please click here to read our legal disclaimer on all products and advice.