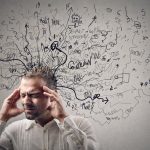 Positive Effects of Probiotics On Mood and Anxiety
There is more and more evidence suggesting that the bacteria within our digestive tract (gut microbiota) communicates with the central nervous system and so can influence mood and behaviour. Subsequently, treatment with probiotics has been shown to alter functional task-related brain activity and have potentially positive effects on psychological outcomes. More and more studies have been published, or are underway, to look at the effects probiotics can real-life outcome measures.
The Keele Study
A 2014 randomised, double-blind, placebo-controlled study examined the effects of Lab4 probiotics on general feelings of anxiety, mood and cognitive function in healthy individuals.
50 healthy volunteers (19-38 years old) were divided into two groups. One group was supplemented with 50 billion Lab4 probiotics every day for six weeks. The second group took a placebo daily for 6 weeks. Volunteers completed mood and anxiety questionnaires (Bond Lader Mood Scales, Stait Trait Anxiety Inventory) and a comprehensive computerised cognitive battery of tests (COMPASS).
Lab4 probiotics significantly decreased scores 'trait' anxiety levels compared to the placebo group, while the 'trait' anxiety levels appeared to increase over the course of the 6 weeks supplementation.
Additionally, 'Continuity of attention' (the ability to focus and avoid distraction) significantly increased in response to the Lab4 supplementation and decreased in the placebo group.
The study concluded that Lab4 probiotics were beneficial for cognitive function in healthy individuals with no reported side effects. For more information about probiotics, head over to our FAQ on probiotics page.
- Save 20% when buying this pack
- EXCLUSIVE downloadable content containing infomation, tips and tricks for mental well-being
- Entry to an exclusive competition
- Supplements included to help contribute to normal psychological function(3), brain function(5) and to contribute to the reduction of tiredness & fatigue(2)
If you are taking any prescribed medication or have any medical conditions ALWAYS consult your doctor or pharmacist BEFORE taking vitamins or supplements. Food supplements must not be used as a substitute for a varied and balanced diet and a healthy lifestyle. If pregnant or lactating, ALWAYS consult your doctor before use. Or if you have any queries about any supplement ALWAYS consult a QUALIFIED medical professional.
Please click here to read our legal disclaimer on all products and advice.