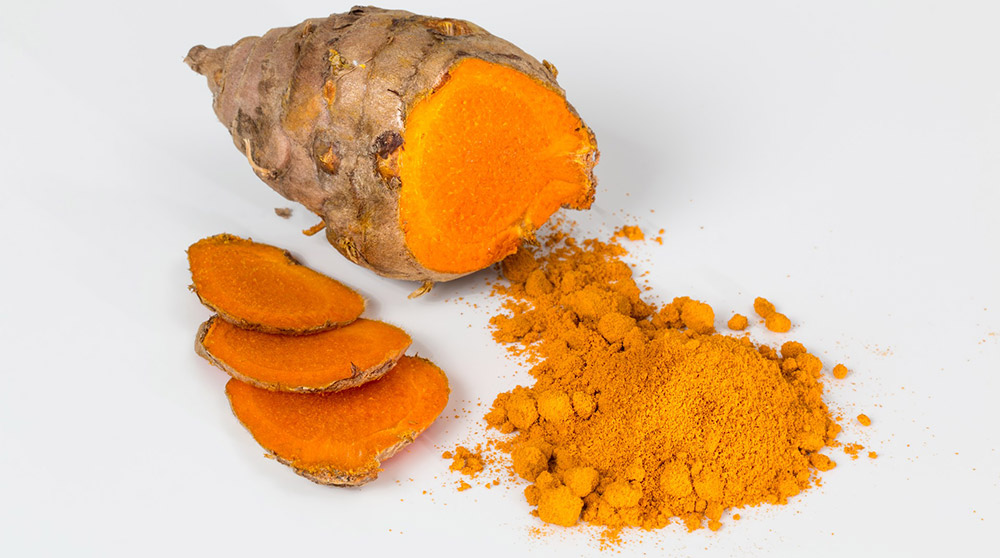 Turmeric is a spice commonly used in Curry, which has Curcumin and the Curcuminoids as the main bioactive compounds. Turmeric itself is fairly healthy and has other bioactives in it. Turmeric has been used for centuries in traditional Ayuverda and chines medicines and has recently seen a surge in its popularity in nutritional supplements. Here is the full lowdown on what we know about curcumin benefits to date. 
Curcumin is a polyphenol (a micronutrient that we get through certain plant-based foods) with anti-inflammatory properties and the ability to increase the amount of antioxidants that the body produces.
Curcumin and Inflammation
Supplementation of curcumin reliably reduces markers of inflammation and increases the levels of endogenous antioxidants in the body. While more research may be needed for many areas of health, current research shows that curcumin can have small to moderate improvement in the symptoms of depression and anxiety, and pain and function in osteoarthritis. A reduction in LDL-cholesterol, blood glucose and blood pressure is possible, but the research is less consistent and more is needed.
Curcumin and Exercise
As well as research into clinical or sub-clinical populations, there is evidence to suggest that curcumin is beneficial to otherwise healthy individuals in different circumstances. For example, curcumin could help you recover from heavy bouts of exercise. In a pilot study, 20 male volunteers were randomized to receive either 1 g curcumin twice daily ( or a placebo 48 h prior to and 24 h after downhill running test. Subjects in the curcumin group reported significantly less pain in the right and left anterior thigh. Significantly fewer subjects in the curcumin group had MRI evidence of muscle injury in the posterior or medial compartment of both thighs (1). Similarly, 2 g of curcumin and 20 g of piperine supplementation was shown to help offset some of the physiological markers of muscle soreness after an intense workout in elite rugby players (2), although more research is needed to confirm this finding. It does hold promise though for those who train regularly.
– Organically grown sustainable Turmeric
– High potency Turmeric extract
– Purified black Pepper extract – Bioperine™
– 60 capsules
Daily Recommended Amount
Daily recommendations and the amount commonly used in research studies is 500 mg, three times a day. In fact, Curcuminoids have been approved by the US Food and Drug Administration (FDA) as "Generally Recognized As Safe" (GRAS) (3), and good tolerability and safety profiles have been shown by clinical trials, even at doses between 4000 and 8000 mg/day. However, curcumin is poorly absorbed, quickly metabolised, and then excreted from the body when consumed alone, black pepper is often used in combination with powdered turmeric to enhance the absorption of curcumin in the body. Bioperine is a common ingredient as it is validated as a black pepper extract, and is known for is safety and efficacy. Aim for around 5-20g of black pepper per 500g of tumeric.
While more evidence is needed and research continues to be carried out and published, there is enough evidence to date to suggest that curcumin supplementation may be beneficial at reducing inflammation and aid recovery from heavy exercise. Additionally, there are few side effects noted.
References
Drobnic, F.; Riera, J.; Appendino, G.; Togni, S.; Franceschi, F.; Valle, X.; Pons, A.; Tur, J. Reduction of delayed onset muscle soreness by a novel curcumin delivery system (Meriva®): A randomised, placebo-controlled trial. J. ISSN 2014, 11, 31.
Delecroix, B.; Abaïdia, A.E.; Leduc, C.; Dawson, B.; Dupont, G. Curcumin and piperine supplementation and recovery following exercise-induced muscle damage: A randomized controlled trial. J. Sports Sci. Med.2017, 16, 147–153.
Basnet, P.; Skalko-Basnet, N. Curcumin: An anti-inflammatory molecule from a curry spice on the path to cancer treatment. Molecules 2011, 16, 4567–4598.
---
If you are taking any prescribed medication or have any medical conditions ALWAYS consult your doctor or pharmacist BEFORE taking vitamins or supplements. Food supplements must not be used as a substitute for a varied and balanced diet and a healthy lifestyle. If pregnant or lactating, ALWAYS consult your doctor before use. Or if you have any queries about any supplement ALWAYS consult a QUALIFIED medical professional.
Please click here to read our legal disclaimer on all products and advice.